Detección de Salmonella spp. en pollo crudo comercializado en la zona suroriental de la ciudad de Tunja
Palabras clave:
Salmonella, ELISA, diagnóstico
Resumen
Las enfermedades transmitidas por alimentos tienen gran impacto en la salud pública. Dentro de ellas, se encuentra la Salmonella spp., uno de los microorganismos patógenos que más produce alteraciones gastrointestinales en humanos. El objetivo del presente trabajo fue: Determinar la presencia de Salmonella spp. en pollo crudo comercializado en la Zona suroriental de la ciudad de Tunja. Como muestra, se seleccionaron 91 piernas de pollo al azar, a las cuales se les realizó análisis fisicoquímico (pH, actividad del agua Aw, humedad). Para determinar la presencia de salmonella, se utilizó la prueba de ELISA inmunoensayo visual Tecra (VIA 96TM). Se aplicó el test estadístico ji cuadrado con tablas de contingencia para evaluar la relación entre las variables: temperatura, pH y Aw, y la presencia de Salmonella spp. en las muestras analizadas. De las 91 muestras analizadas, n= 57 fueron positivas para Salmonella spp. (correspondientes al 62,6 %).
Referencias bibliográficas
Benetti, T. M. (2009). Métodos de detecção e incidência de Listeria Sp e Salmonella Sp em linguiças resfriadas comecializadas no Estado do Paraná.
D'aoust, J., Sewell, A. y Jean, A. (1990). Limited sensitivity of short (6 h) selective enrichment for detection of foodborne Salmonella. Journal of food protection, 53(7), 562-565.
Díaz, M., Díaz, P., Rodríguez, C., Montaño, L., Medina, M., González, G. y Realpe, M. (2014). Caracterización fenotípica y genotípica de Salmonella Typhimurium variante 5- asociada a un brote de enfermedad transmitida por alimentos en el municipio de Paz de Río, Boyacá, 2010. Iatreia, 27(1), 23-30.
Durango, J., Arrieta, G. y Mattar, S. (2004). Presencia de Salmonella spp. en un área del Caribe colombiano: un riesgo para la salud pública. Biomédica, 24(1), 89-96.
Flowers, S., Klatt, M. y Keelans, L. (1988). Visual immunoassay for detection of Salmonella in foods: collaborative study. Journal of the Association ojoflcial Analytical Chemists, 71, 973-980.
Freitas, O., Penha, R., Barrow, P. y Berchieri, A. (2010). Sources of human non-typhoid salmonellosis: a review. Brazilian Journal of Poultry Science, 12(1), 1-11. https://dx.doi.org/10.1590/S1516-635X2010000100001.
Guerra, A. (2018). Presencia de salmonella spp en expendios de carne de pollo de la ciudad de Valledupar. Documentos de Trabajo ECAPMA, 2(1). https://doi.org/10.22490/ECAPMA.2777
Humphrey, T (2004). Salmonella, stress responses and food safety. Nature Reviews Microbiology, 2(6), 504-509.
Indar, H., Daniels, N., Prabbakar, P., Brown, C., Baccus-Taylor, C., Reid, H. y Hospedales, J. (2004). La Salmonella en el Caribe (pp. 1-27). Departamento de salud y servicios para las personas de los Estados Unidos de américa.
Hughes, D., Dailianis, A. E., Hill, L., McIntyre, D. A. y Anderson, A. (2001). Tecra® Unique™ Test for rapid detection of Salmonella in food: Collaborative study. Journal of AOAC International, 84(2), 416-430.
Instituto Nacional de Salud. Semana Epidemiológica Semana epidemiológica 35 Ago. 26 al 1 de sept. de 2018 Casos Totales en la Semana Epidemiológica 35 Acumulados del Año. Bogotá D.C: Instituto Nacional de Salud; 2010. p. 9. disponible en https://www.ins.gov.co/buscador,eventos/BoletinEpidemiologico/2018%20Bolet%C3%ADn%20epidemiol%C3%B3gico%20semana%2035.pdf.
Instituto Nacional de Salud. (2008). Enfermedades transmitidas por alimentos. Grupo de enfermedades trasmitidas por alimentos.
Joerger, R. D., Sartori, C. A. y Kniel, K. E. (2009). Comparison of Genetic and Physiological Properties of Salmonella enterica Isolates from Chickens Reveals One Major Difference Between Serovar Kentucky and Other Serovars: Response to Acid. Foodborne Pathogens and Disease, 6(4), 503-512. doi:10.1089/fpd.2008.0144.
Lambiri, M., Mavridou, A., Richardson, S. C. y Papadakis, J. A. (1990). Comparison of the TECRA Salmonella Immunoassay with the conventional culture method. Letters in Applied Microbiology, 11(4), 182-184. doi:10.1111/j.1472-765x.1990.tb00155.x.
Linder, E. (1995). Toxicología de los alimentos. Editorial Acribia.
Mercado, M., Ávila, J., Rey, M., Montoya, M., Gamboa, A., Carrascal, A. K. y Correa, D. X. (2012). Brotes por Salmonella spp., Staphylococcus aureus y Listeria monocytogenes asociados al consumo de pollo. Biomédica, 32(3), 375-385.
Ministerio de la Protección Social. (2011). Perfil de riesgo Salmonella spp. (no tifoideas) en pollo entero y en piezas Unidad de Evaluación de Riesgos para la Inocuidad de los Alimentos UERIA. Instituto Nacional de Salud INS.
Nychas, G. y Tassou, C. (1996). Growth/survival of Salmonella enteritidis on fresh poultry and fish stored under vacuum or modified atmosphere. Letters in applied microbiology, 23(2), 115-119.
Oscar, T. P. (2009). Predictive Model for Survival and Growth of Salmonella Typhimurium DT104 on Chicken Skin during Temperature Abuse. Journal of Food Protection, 72(2), 304-314. doi:10.4315/0362-028x-72.2.304.
Paucar, L. y Tenecora, J. (2013). Determinación de Salmonella spp. en materia prima carnica de la empresa Italimentos mediante la tecnica visual inmunoensayo TECRA Salmonella via [trabajo de pregrado, Universidad de Cuenca].
Perales, I. y Audicana, A. (1989). Evaluation of semisolid Rappaport medium for detection of salmonellae in meat products. Journal of food protection, 52(5), 316-319.
Pérez, C., Reyes, M. y Carrascal, A. (2008). Incidencia de Listeria spp. en carcasas de pollo congelado en un supermercado del nororiente de Bogotá. Nova, 6(10), 141-146.
Poppe, C. y Duncan, C. (1996). Comparison of detection of Salmonellaby the TecraR UniqueTM Salmonellatest and the modified Rappaport Vassiliadis medium. Food Microbiology, 13(1), 75-81. https://doi.org/10.1006/fmic.1996.0010
Rubiano, C. y Torres, S. (2014). Reportes de brotes y aislamientos de salmonella sp. en Colombia. Cultura Científica, (12), 74-83.
Shaw, I., Lake, R. y Whyte, R. (2002). Profile: Salmonella (Non Typhoid) In Poultry (Whole And Pieces).
Silva, N., Magalhães, J., Freire, C. y Delerue, C. (2018). Electrochemical biosensors for Salmonella: State of the art and challenges in food safety assessment. Biosensors and Bioelectronics, 99, 667-682. http://dx.doi.org/10.1016/j.bios.2017.08.019
Soto, Z., Pérez, L. y Estrada, D. (2016). Bacterias causantes de enfermedades transmitidas por alimentos: una mirada en Colombia. Revista Salud Uninorte, 32(1), 105-122.
World Health Organization (WHO). (s.f.). Salmonella (non-typhoidal). Factsheet Nº139, Updated August 2013. http://www.who.int/mediacentre/factsheets/fs139/en/-
Zhao, C., Ge, B., De Villena, J., Sudler, R., Yeh, E., Zhao, S., ... y Meng, J. (2001). Prevalence of Campylobacter spp., Escherichia coli, and Salmonella serovars in retail chicken, turkey, pork, and beef from the Greater Washington, DC, area. Applied and environmental microbiology, 67(12), 5431-5436.
Cómo citar
Caro Mejia, L. G., Cardozo , S. M., Dallos, A., & Pérez Rubiano, C. C. (2022). Detección de Salmonella spp. en pollo crudo comercializado en la zona suroriental de la ciudad de Tunja. Cultura Científica, 1(20). https://doi.org/10.38017/1657463X.805
Descargas
Los datos de descargas todavía no están disponibles.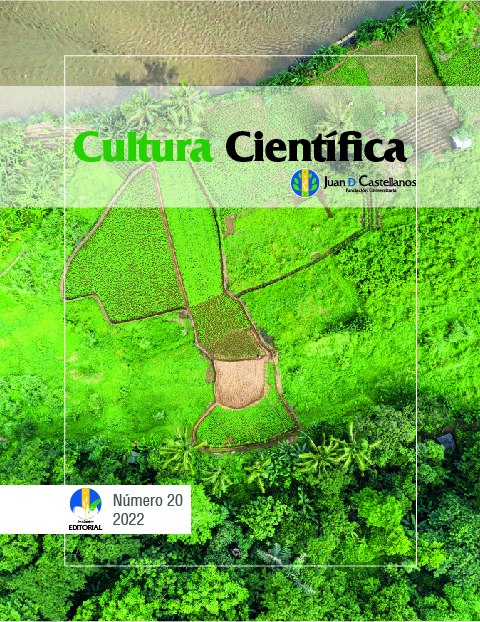 Descargas
Sección
Artículo de Investigación Científica y Tecnológica
Licencia
Derechos de autor 2022 Cultura Científica
Esta obra está bajo una licencia internacional Creative Commons Atribución-NoComercial-CompartirIgual 4.0.