EVALUACIÓN DE LA LEVADURA (Saccharomyces cerevisiae) EN LA GANANCIA DE PESO DE OVINOS CRIOLLOS
Palabras clave:
ovejas, pastoreo, probióticos, rendimiento productivo
Resumen
Con el fin de reemplazar los antibióticos promotores de crecimiento y en busca de mejorar el rendimiento productivo de los animales, se ha usado los probióticos que son microorganismos vivos como bacterias y hongos que han mostrado efectos benéficos en las explotaciones pecuarias al ser suministrados como suplementos alimenticios. Es por esto, que el presente estudio se desarrolló con el objetivo de evaluar la ganancia de peso de ovinos criollos en un sistema de pastoreo con la adición de levadura (Saccharomyces cerevisiae). Para lo cual se realizó un experimento con 21 ovinos criollos con un peso promedio de 14,71 kg ±1,9 bajo pastoreo continuo en una pradera de pasto Kikuyo (Pennisetum clandestinum) y agua Ad libitum. Losanimales se distribuyeron completamente al azar en tres tratamientos: T1, tratamiento control, sin adición de levadura; T2, adicionado con 5 g/día de levadura y T3, adicionado con 15 g/día de levadura. Se determinó la ganancia de peso diaria y final de los animales; los resultados fueron comparados por ANOVA de un factor con una confiabilidad del 95%. Se observó diferencia estadística significativa para el peso final de los ovinos a favor de T3 (p≤0.05). Además, se evidenció que la ganancia de peso diaria fue de 100 g; 120 g y 220 g para T1, T2 y T3 respectivamente, lo que permitió determinar que la adición de 15 g de levadura mejora la ganancia de peso diario y final de los ovinos en pastoreo.
Referencias bibliográficas
AGHDAMSHAHRIAR, H., NAZER, A. & MADZADEH, A. 2006. The effect of yeast (Saccharomyces cerevisiae) in replacement fish meal and poultry by product protein in broiler diet XII European Poultry Conference, Verona, Italia.

AHMED, A. K. S., B., CAJA, G., GARÍNA, D., ALBANELLA, E., SUCHA, X. & CASALSA, R. 2002. Effects of adding a mixture of malate and yeast culture (Saccharomyces cerevisiae) on milk production of Murciano-Granadina dairy goats. Anim. Res 51: 295-303.

ANDO, S., KHAN, R. I., TAKAHASI, J., GAMO, Y., MORIKAWA, R., NISHIGUCHI, Y. & HAYASAKA, K. 2004. Manipulation of rumen fermentation by yeast: The effects of dried beer yeast on the In vitro degradability of forages and methane production. Asian-Aust. J. Anim. Sci. 17 (1): 68-72.

ARCOS-GARCIA, J. L., CASTREJÓN, F. A., MENDOZA, G. D. & PÉREZ-GAVILÁN, E. P. 2000. Effect of two comercial yeast cultures witn Saccharomyces cerevisiae on ruminal fermentation and digestion in sheep fed sugar cane tops. Livestock Production Science 63: 153-157.

CABRERA, C. Y. & FADRAGAS, F. A. 2005. Probióticos y salud: una reflexión necesaria. Revista Cubana de Medicina General Integral 21: 3-4.

CARRO, M. D., RANILLA M. J. & TEJIDO, M. L. 2006. Utilización de aditivos en la alimentación del ganado ovino y caprino. Sitio argentino de producción 3: 26-37.

DAWSON, K. A. & HOPPKINS, D. M. 1991. Differential effects of live yeast on cellulolytic activity of anaerobic ruminal bacteria. J. Anim. Sci. 69 (suppl.1) : 531.

DESNOYERS, M., GIGER-REVERDIN, S., BERTIN, G., DUVAUXPONTER, C. & SAUVANT, D. 2009. Meta-analysis of the influence of Saccharomyces cerevisiae supplementation on ruminal parameters and milk production of ruminants. J. Dairy Sci. 92 :1620-1632.

DOLEŽA, P., DVOŘÁČEK, J., DOLEŽAL, J., ČERMÁKOVÁ, J., ZEMAN.L.& SZWEDZIAK, K. 2011. Effect of feeding yeast culture on ruminal fermentation and blood indicators of Holstein dairy cows. Acta Vet.
Brno. 80: 139-145.

FULLER, R. 1989. Probiotics in man and animals. Journal of applied bacteriology 66: 365-378.

GONZALO, B. D. 2010. Uso de los probióticos en la alimentación animal con énfasis en Saccharomyces cerevisiae. Universidad Nacional Mayor de San Marcos. Sirivis. Perú. 2-13.

HADDAD, S. G. & GOUSSOUS, S. N. 2005. Effect of yeast culture supplementation on nutrient intake, digestibility and growth performance of Awassi lambs. Anim. Feed Sci. Technol.118: 343-348.

HADJIPANAYIOTOU, M., ANTONIOU, I. & PHOTIOU, A. 1997. Effects of the inclusion of yeast culture on the performance of dairy ewes and goats and the degradation of feedstuffs. Livest. Prod. Sci. 48:129-134.

HIRSTOV, A. N., VARGA, G., CASSIDY, T., LONG, M., HEYLER, K., KARNATI, S. K. & YOON, I. 2005. Effect of Saccharomyces cerevisiae fermentation product on ruminal fermentation and nutrient utilization in dairy cows. J. Dairy Sci. 93(2): 682-692.

GIGER-REVERDINS., SAUVANT, D., TESSIER J., BERTIN, G. & MORAND-FEHR, P. 2004. Effect of live yeast culture supplementation on rumen fermentation in lactating dairy goats South African. Journal of Animal Science 34 (Suppl. 1): 59-61.

MACEDO, R., ARREDONDO, V. & BEAUREGARD, J. 2006. Efecto de un cultivo de levadura sobre el comportamiento productivo de corderos Pelibuey engordados intensivamente en Colima, México. Rev. AIA. 10 (3): 59-67.

MIAZZO, R. D., PERALTA, M. F. & PICCO, M. 2005. Perfomance Productiva y Calidad de la canal en Broilers que recibieron levadura de cerveza (S. cerevisiae). REDVET6 (12).

MIKULEC, Ž., MAŠEK, T., HABRUN, B. & VALPOTIĆ, H. 2010. Influence of live yeast cells (Saccharomyces cerevisiae) supplementation to the diet of fattening lambs on growth performance and rumen bacterial number. Veterinarskiarhiv 80 (6): 695-703.

MUTSVANGWA, T., EDWARDS, I. E., TOPPS, J. H & PATERSON, G. F. M. 1992.The effect of dietary inclusion of yeast culture (Yea-Sacc) on patterns of rumen fermentation, food intake and growth of intensively fed. bulls. Anim. Prod. 55: 35-40.

NEWBOLD, C. J. 1995. Probiotics for ruminants.Biotechnologyin Animal Feeds and Animal Nutrition. ED., J. Wallace y A. Chesson. Germany. 259-278.

NEWBOLD, C. J., WALLACE, R. J & McINTOSH, F. M. 1996. Mode of action of the yeast Saccharomyces cerevisiae as feed additive for ruminants. British Journal of Nutrition 76: 249-261.

OMGE. (Mayo de 2008). world gastroenterology.Disponible en world gastroenterology: http://www.worldgastroenterology.org/assets/downloads/es/pdf/guidelines/19_probioticos_prebioticos_es.pdf.

PLATA, P. F. X., VELASCO, R. R., MELGOZA, C. L. M., LARA, B. A., ARANDA, I. E. & MENDOZA, M. G. D. 2004. Un cultivo de levadura (Saccharomyces cerevisiae) y la monesina sódica en el comportamiento productivo de ovinos. Revista científica FCV-LUZ 14 (6): 522-525.

ROBERFROID M., GIBSON G.R., HOYLES L., MCCARTNEY A.L., RASTALL R., ROWLAND I., WOLVERS D., WATZL B., SZAJEWSKA H., STAHL B., GUARNER F., RESPONDEK F., WHELAN K., COXAM V., DAVICCO M. J., LÉOTOING L., WITTRANT Y., DELZENNE N. M., CANI P.D., NEYRINCK A. M. & MEHEUST A. 2010. Prebiotic effects: metabolic and health benefits. Br. J. Nutr., Suple 2: 63.

ROBINSON P. H. & GARRETT J. E. 1999. Effect of yeast culture (Saccharomyces cerevisiae) on adaptation of cows to postpartum diets and on lactational performance. J. Anim. Sci. 77: 988-999.

SALAMA, A. A. K., CAJA G., GARIN D., ALBANELL E., SUCH X. & CASALS R. 2002. Effects of adding a mixture of malate and yeast culture (Saccharomyces cerevisiae) on milk production of Murciano-Granadina dairy goats. Anim. Res 51: 295-303.

SPARKS, M., PASCERTZ & KAMPHUES, J. 2005. Yeast different sources and levels as protein source in diets of reared piglets: effect on protein digestibility and N-metabolism. J. Ani. Physiol. Ani. Nutr. 89:184-188.
Cómo citar
CIFUENTES RUÍZ, O. D., & GONZÁLEZ TORRES, Y. O. (2013). EVALUACIÓN DE LA LEVADURA (Saccharomyces cerevisiae) EN LA GANANCIA DE PESO DE OVINOS CRIOLLOS. Conexión Agropecuaria JDC, 3(1), 41–49. Recuperado a partir de https://revista.jdc.edu.co/index.php/conexagro/article/view/329
Descargas
Los datos de descargas todavía no están disponibles.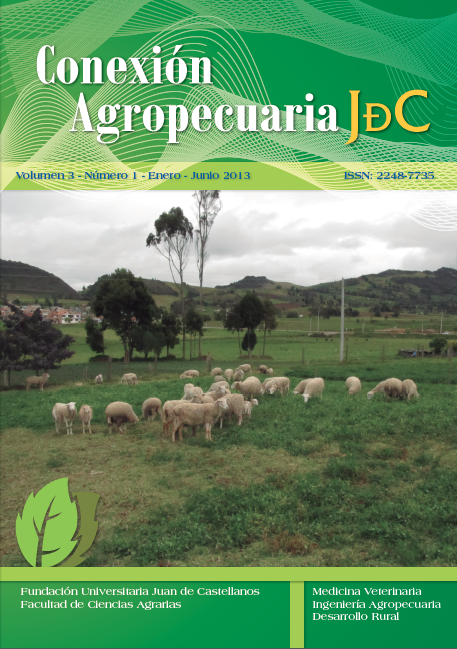 Descargas
Sección
Artículos de investigación Científica y tecnológica