RESISTENCIA DE LAS BACTERIAS CAUSANTES DE MASTITIS BOVINA FRENTE A LOS ANTIMICROBIANOS MÁS FRECUENTES
Palabras clave:
antimicrobianos, bovinos, mastitis clínica, mastitis subclínica, resistencia bacteriana, sensibilidad bacteriana
Resumen
La resistencia que desarrollan las bacterias frente a los antimicrobianos utilizados comúnmente, constituye una limitante en el control y tratamiento de las enfermedades infecciosas. En los sistemas de producción de leche bovina, uno de los problemas que más afecta la cantidad y la calidad de la leche producida, es la mastitis, que en la mayoría de los casos es de origen bacteriano. Por lo anterior, fuera de una correcta rutina de ordeño, se utilizan diversos antibacterianos, que por razones farmacocinéticas y farmacodinámicas sean de primera elección para dicha enfermedad. Es así como el uso de antibacterianos para el tratamiento de mastitis, en algunos casos es eficaz, pero en otros no, generalmente debido al desarrollo de resistencia por parte de las bacterias. Con el paso de los años se han ido identificando los diferentes mecanismos de resistencia, desarrollados por las bacterias, lo que ha permitido a los investigadores en farmacología, diseñar nuevos fármacos o modificar los existentes, buscando disminuir la ineficacia que ha generado la mutación sufrida por las bacterias como mecanismo de adaptación. Por lo anterior, el objetivo de esta revisión bibliográfica es ofrecer un documento actualizado sobre los mecanismos de resistencia identificados hasta el momento. Se hizo una consulta de fuentes bibliográficas actualizadas y se elaboró la revisión que aquí se presenta.
Referencias bibliográficas
ALLYDICE-FRANCIS, K. & BROWN. 2012. Diversity of Antimicrobial Resistance and Virulence Determinants in Pseudomonas aeruginosa Associated with Fresh Vegetables. International Journal of Microbiology 4: 262-271.

ALLEN, H.K. DONATOS, J. & WANGS, A. 2010. Call of the wild: antibiotic resistance genes in natural enviroments. Nature. Reviews. Microbiology 8 (4): 251-259.

APONTE, C.C. F. 2007. Perfil de resistencia in vitro a antimicrobianos de cepas causantes de mastitis aisladas de leche cruda bovina en establecimientos de pequeña y mediana producción. Memorias del Instituto de Investigaciones en Ciencias de la Salud 5(1): 19-25.

BAJWA, N.S., BANSAL, B.K., SRIVASTAVA, A.K. & RANJAN, R. 2007. Pharmacokinetic profile of erythromycin after intramammary administration in lactating dairy cows with specific mastitis. Veterinary Research Communication 31: 603-610.

BECERRA, G., PLASCENCIO, A., LUÉVANOS, A., DOMÍNGUEZ, M. & HERNÁNDEZ, I. 2009. Mecanismos de resistencia a antibacterianos en bacterias. Enfermedades Infecciosas y Microbiológicas 29 (2): 70-78.

BETANCOURT, O, SCARPA, C. & VILLAGRÁN, K. 2003. Estudio de resistencia de cepas de Staphylococcus aureus aisladas de mastitis subclínica bovina frente a cinco antibióticos en tres sectores de la IX región de Chile. Revista Científica FCV-LUZ 13 (5): 413-417.

BOSCAN O. J., VILLARROEL N. R., OVIEDO B.A., SÁNCHEZ V.A., PINO, R. D., GARCÍA, B., HERNÁNDEZ, G, L., GONZÁLEZ & PÉREZ, B. M. 2009. Bacterias patógenas potenciales al inicio del periodo seco de vacas doble propósito con mastitis subclínica. Disponible en http://redalyc.uaemex.mx/src/inicio/ArtPdfRed.jsp?iCve=95911669010. Accesado: 20/01/2013.

CABALLERO, R. J. 2007. Actualización en farmacología clínica: Macrólidos. Revista Paceña de Medicina Familiar 4(6): 149-153.

CABRERA, C. E., GÓMEZ, R. F. & ZÚÑIGA, A. E. 2007. La resistencia de bacterias a antibióticos, antisépticos y desinfectantes una manifestación de los mecanismos de supervivencia y adaptación. Colombia Médica 38 (2): 149-158.

CABRERA, A. C. E. & MEJÍA, O. C. 2008. Los mecanismos de resistencia a antibióticos: ¿Podremos lograr un equilibrio entre el uso – abuso de los antibióticos y así lograr la disminución de la resistencia bacteriana a estos medicamentos? Revista Colombiana de Salud Humano 3 (1): 83-104.

CALDERÓN, R. A., RODRÍGUEZ, R. V., ARRIETA, B. G & MATTAR, V. L. 2011. Prevalence of mastitis in dual-purpose cattle farms in Montería (Colombia): etiology and antibacterial susceptibility. Revista Colombiana de Ciencias Pecuarias 24:19-28.

CASTELLANO, G. M & PEROZO-MENA, A. 2010. Mecanismos de resistencia a antibióticos B-Lactámicos en Staphylococcus aureus. Revista Kasmera 38 (1):18-35.

CHAISATIT, C., TRIBUDDHARAT C, PULSRIKARNC & DEJSIRILERT, S. 2012. Molecular characterization of antibiotic-resistant bacteria in contaminated chicken meat sold at supermarkets in Bangkok, Thailand. Japanese Journal of Infectious Diseases 65: 527-534.

CHAMBERS H.F. 2006. General principles of antimicrobial therapy. Chapter – 42. Section VIII - Chemotherapy of microbial diseases. Goodman & Gilman's the pharmacological basis of therapeutics- 11th ed.

CRUZ, C.A., ESPITIA, C.E., HERNÁNDEZ, L.J.J.A & SANABRIA, V.J.P. 2007. Identificación de bacterias causantes de mastitis bovina y su resistencia ante algunos antibacterianos. Revista UDCA. Actualidad & Divulgación Científica 10: 81-89.

DENAP, J.C.B. & HERGENROTHER, P. J. 2005. Bacterial death comes full circle: targeting plasmid replication in drug-resistant bacteria. Organic & Biomolecular Chemistry 3: 959-966.

DEPARDIEU, F., PODGLAJEM, I., LECLERCP, R., COLLATZ, E & COURVALIN, P. 2007. Modes and modulations of antibiotic resistance gene expression. Clin. Microb. Resistance 20: 79-114.

ECHEVERRI, Z. J. J., JARAMILLO, M. G. & RESTREPO, B. L. F. 2010. Evaluación comparativa de dos metodologías de diagnóstico de mastitis en un hato lechero del Departamento de Antioquia. Revista. Lasallista Investigación 7(1): 49-57.

FERNÁNDEZ, B. O. F., TRUJILLO, G. J. E., PEÑA, C. J. J. & CERQUERA, G. J. 2012. Mastitis bovina: generalidades y métodos de diagnóstico. Redvet. 13 (11):1-11. Disponible en http://www.veterinaria.org/revistas/redvet/n111112.html. Accesado: 10/01/2013.

FUCHS, L. Y., CHIHU, L., CONDE, C., GONZÁLEZ, V. M., NOGUEZ, A. H., CALDERÓN, E., AVONCE, N. & OVANDO, C. 1994. Mecanismos moleculares de la resistencia bacteriana. Salud Pública México 36 (4):428-438.

GOODMAN G. A. 2003. Las Bases Farmacológicas de la Terapéutica. 10ª. Ed. Mc Graw Hill. Vol. II. Cap. 40. México. 330 pp. GROHMANN, E., MUTH, G. & ESPINOSA, M. 2003. Conjugative Plasmid Transfer in Gram-Positive Bacteria. Microbiology and Molecular Biology Reviews 67(2): 277-301.

HAVERI, M.; SUOMINEN, S.; RANTALA, L.; HONKANEN-BUZALSKI, T. & PYÖRÄLÄ, S. 2005. Comparison of phenotypic and genotypic detection of penicillin G resistance of Staphylococcus aureus isolated from bovine intramammary infections. Veterinary Microbiology 106: 97-102.

IDRESS M, MUSSARAT U, BADSHAH Y, QAMAR R. & BOKHARI H. 2010. Virulence factors profile of drug-resistant Escherichia coli isolates from urinary tract infections in Punjab, Pakistan. European Journal of Clinical Microbiology and Infectious Diseases 29 (12):1533-1537.

KNAPP, C.W., LIMA, L., OLIVARES-RIEUMONT, S., BOEN, E., WERNER, D. & GRAHAM, D.W. 2012. Seasonal Variations in Antibiotic Resistance Gene Transport in the Almendares River, Havana, Cuba. Front Microbiol. 3: 396.

KNAPP, C.W; DOLFING, J; EHLERT, P.A. & GRAHAM, D.W. 2010. Evidence of increasing antibiotics resistance gene abundance in archived soils since 1940. 44 (2): 580-587.

LEWIS K. 2007. Persistent cells, dormancy and infectious disease. Nature Reviews Microbiology 5: 49-56.

MANJARREZ, L.A.M., DÍAZ, Z.S., SALAZAR, G.F., VALLADARES, C.P., GUTIÉRREZ, C.A., BARBABOSA, P.A., M. TALAVERA, R.M., ALFONSO, S.M. & VELÁSQUEZ, O.V. 2012. Identificación de biotipos de
Staphyloccocus aureus en vacas lecheras de producción familiar con mastitis subclínica en la región centro-este del Estado de México. Revista Mexicana de Ciencias Pecuarias 3(2): 265-274.

MENSA, J., GARCÍA-VÁSQUEZ E. & VILA J. 2003. Macrólidos, estólidos y estreptograminas. Enfermedades Infecciosas y Microbiología Clínica 21(4): 200-208.

MOMTAZ, H., FARHAD SAFARPOOR D., TAGHI, T REZVANI, A. & YARALI, S. 2012. Shiga Toxin-Producing Escherichia coli Isolated from Bovine Mastitic Milk: Serogroups, Virulence Factors, and Antibiotic Resistance Properties. Scientific World Journal. 618-709.

MOLINA, J; CORDERO, E., PALOMINO, J. & PACHÓN, J. 2009. Aminoglicósidos y polimixinas. Microbiol Clin. 27(3):178-188.

NATIONAL MASTITIS COUNCIL (NMC). 2003. Current Concepts of Bovine Mastitis. 4th ed. National Mastitis Council, W.D. Hoard and Sons Co. Fort Atkinson, WI. 39-44.

NIKAIDO, H. & ZGURSKAYA, H.I. 2001. AcrAB and related multidrug efflux pumps of Escherichia coli. Journal of Molecular Microbiology and Biotechnology 3: 215-218.

NORMARK, B.H. & NORMARK, S. 2002. Evolution and spread of antibiotic resistance. Journal of Internal Medicine 252: 91-106.

NÚÑEZ, F.B. 2004. Macrólidos. Uso racional de antibióticos 4: 17-22.

ORMAN, B. 2006. La resistencia bacteriana y sus mecanismos de dispersión. Revista de la Facultad de Odontología Universidad de Buenos Aires. 21 (50/51): 13-19.

PALOMINO, J. & PACHÓN, J. 2003. Aminoglicósidos. Enfermedades Infecciosas Microbiología Clínica 21(2): 105-115.

PARADA, J.L., GONCALVES, D., SOCCOL, V.S., LIMA, M. & SOCCOL, C.R. 2011. Bovine Mastitis in the Metropolitan Area of Curitiba: Antibiotic Resistance and Antimicrobial Control of the Infection. Brazilian Archives of Biology and Technology 54 (4): 709-716.

PELLEGRINO, M.S, FROLA, I.D., ODIERNO, L.M. & BOGNIA, C.I. 2011. Mastitis Bovina: Resistencia a antibióticos de cepas de Staphylococcus aureus asiladas de leche. REDVET Rev. Electrón. Vet. 12 (7). Disponible en http://www.veterinaria.org/revistas/redvet/n070711/071110.pdf. Accesado: 26/12/2012.

POOLE K. 2002. Mechanisms of bacterial biocide and antibiotic resistance. Journal of Applied Microbiology Symposium Supplement 92: 55S-64S.

POPPE, C., MARTIN, L. C., GYLES, C. L., REID-SMITH, R., BOERLIN, P., MCEWEN, S. A., PRESCOTT, J. F. & FORWARD, K. R. 2005. Acquisition of resistance to extended-spectrum cephalosporins by Salmonella enterica subsp. enterica serovar Newport and Escherichia coli in the turkey poult intestinal tract. Applied and Environmental Microbiology 71(3):1184-1192.

RAMÍREZ, N., GAVIRIA, G., ARROYABE, O., SIERRA, B. & BENJUMEA, J. 2001. Prevalencia de mastitis en vacas lecheras lactantes en el municipio de San Pedro de los Milagros, Antioquia. Revista Colombiana de Ciencias Pecuarias 14 (1): 76-87.

RUSSI, N. 2008. Susceptibilidad de antibióticos de Staphylococcus aureus aislados de mastitis bovina. Tesis para optar el título de Magíster Scientiae en Ciencias Veterinarias, Mención Salud Animal. Facultad de Ciencias Veterinarias. Universidad del Litoral. Esperanza, Argentina.

SAMANIEGO, E. 2005. Macrólidos y lincosamidas En: Fundamentos de Farmacología Clínica. 6ª. Edición. Ed. C.C.E. Quito. II: 1129-1134.

SAN MARTÍN, B., MORALES, M.A., AGÜERO, H., LEÓN, B., ESPPINOZA, S., IRAGÜEN, D., PUGA, J. & BORIE, C. 2002. Resistencia bacteriana en cepas patógenas aisladas de mastitis en vacas lecheras de la V Región Metropolitana y Xa Región, Chile. Archivos de Medicina Veterinaria 34 (2): 221-234.

SHAKIL, S., KHAN, R., ZARRILLI, R. & KHAN, A.U. 2008. Aminoglycosides versus bacteria a description of the action, resistance mechanism, and nosocomial battleground. Journal Biomedical Sciences 15: 5-14.

SHARMA R, SHARMA CL. & KAPOOR B. 2005. Antibacterial Resistance: Current Problems and Possible Solutions. Indian Journal Medicine Sciense 59(3):120-129.

SRINIVASAN, V., GILLESPIE, B. E. & LEWIS, M. J. 2007. Phenotypic and genotypic antimicrobial resistance patterns of Escherichia coli isolated from dairy cows with mastitis. Veterinary Microbiology 124 (3-4): 319-328.

SUÁREZ, C.J., KATTAN, J, N, GUZMÁN, A.M. & VILLEGAS, M.V. 2006. Mecanismos de resistencia a carbapenems en P. aeruginosa, Acinetobacter y Enterobacteriaceae y estrategias para su prevención y control. Asociación Colombiana de Infectología 10(2): 85-93.

TAFUR, J. D., TORRES, J.A. & VILLEGAS, M.V. 2008. Mecanismos de resistencia a los antibióticos en bacterias Gram negativas. Asociación Colombiana de Infectología 12 (3): 227-232.

TALÉNS-VISCONTI, R., GARRIGUERS, T.M. & CANTÓN, E. 2002. Mecanismo de resistencia bacteriana a las quinolonas. Disponible en http://www.seq.es/seq/html/revista_seq/0102/rev1/rev1. Accesado: 15/01/2013.

THOMSON, KS. & SMITH ME. 2000. The New b-lactamasas on gram-negative bacteria at the dawn of the new millennium. Microbes and Infection Journal 2: 1225-1235.

VIGNOLI, R. & SEIJA, V. 2003. Principales Mecanismos de Resistencia. Cap 35: 649-662. Disponible en http://www.higiene.edu.uy/cefa/2008/Principalesmecanismosderesistenciaantibiotica.pdf. Accesado: 12/12/2012.

WARNES, S.L., HIGHMORE, C.J. & KEEVIL, W. 2012. Horizontal Transfer of Antibiotic Resistance Genes on Abiotic Touch Surfaces: Implications for Public Health. mBio. Nov-Dec: 3(6).

WRIGHT, G. D. 2005. Bacterial resistance to antibiotics: Enzymatic degradation and modification. Advanced Drug Delivery Reviews 57:1451-1470.

YONEYAMA H. & KATSUMATA R. 2006. Antibiotic resistance in bacteria and its future for novel antibiotic development. Biosciencie. Biotechnology Biochemical 70(5):1060-1075.
Cómo citar
MARTÍNEZ PACHECO, D., CRUZ CARRILLO, A., & MORENO FIGUEREDO, G. (2013). RESISTENCIA DE LAS BACTERIAS CAUSANTES DE MASTITIS BOVINA FRENTE A LOS ANTIMICROBIANOS MÁS FRECUENTES. Conexión Agropecuaria JDC, 3(1), 53–73. Recuperado a partir de https://revista.jdc.edu.co/index.php/conexagro/article/view/330
Descargas
Los datos de descargas todavía no están disponibles.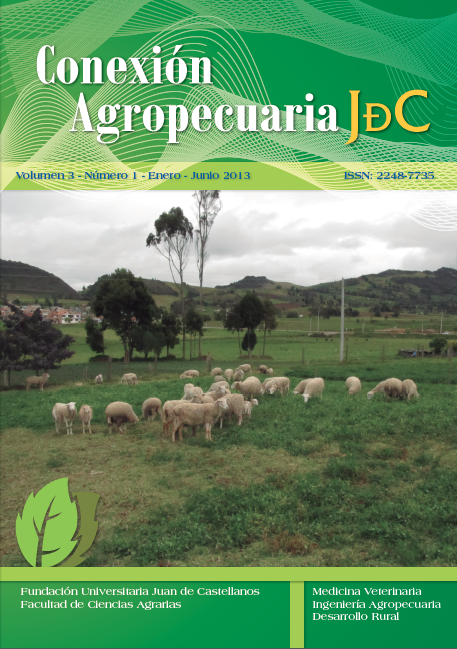 Descargas
Sección
Artículos de revisión